Burning CDs and DVDs for Linux
UNIX Burn, File Writing Media, k3b
The best way to write optical media in Linux is via
K3B
. You can run this program by going to the Linux start menu or by issuing the command "
k3b
" from the command line.
Once started, you will see two windows display; the "Project View" window and the "CD Kreator" window (file browser). Click on the type of media you would like to create in the Project View window: "New Audio Project", "New Data CD Project", "New Data DVD Project" and "Copy CD".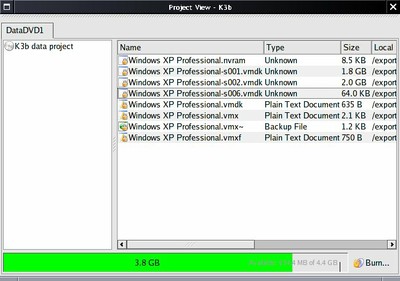 Using the K3b Browser
Select a new "DATA CD" or "DVD" project icon. If you do not see the Project View icons, go to the CD Kreator window and from the "File" menu choose the type of data project you would like to create. This will open the Project View window.  Drag the files from the CD Kreator window to the Project View window. Please note the small green bar at the bottom. This will show how much space is left on the media. If any of that bar is red, it means you are trying to copy more data than the media has space. Delete some of the files from the Project View window, by highlighting the file and pressing the delete key. Once you have copied the files, click on the Burn icon in the lower right corner.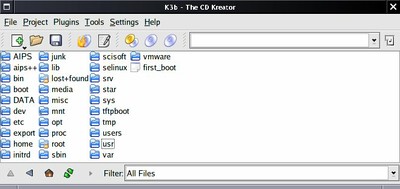 K3B Project View
Verify the setting are correct and then click the Burn button on right. Once k3b has completed the disk should automaticly eject from the computer.